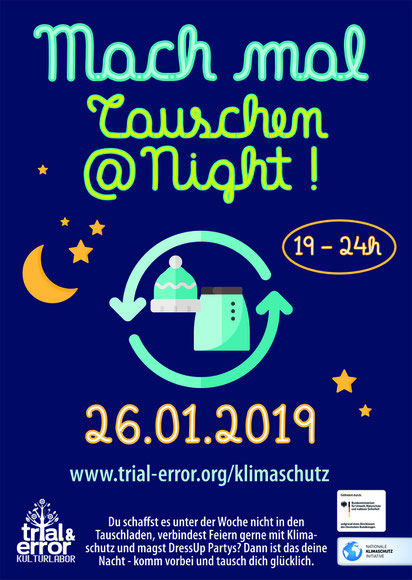 [English version below]
Wir haben regelmäßig Leute, die uns sagen, dass die normalen Öffnungszeiten unseres Tauschladen ihnen nicht passen. Deswegen haben wir beschlossen, die Gelegenheit zu nutzen, den ganzen Abend lang zu tauschen: den Austausch zu feiern und allen zugänglich zu machen.
Es war ein schöner Abend! Unser Bar-Team hat wunderbare Arbeit geleistet, um alle mit köstlichen, hausgemachten Kombucha- und Wasserkefir-Cocktails zu versorgen (Jule und Vlad, ihr seid großartig!). Wir hatten einen kreativen Tisch, an dem die Gäste Kleidung und Schmuck aus Müll herstellten (Danke Lo für die Spende von Kaffeetüten!), eine Make-up-Ecke, Modefotograf Tau Pibernat, leckere Kuchen (Danke Krittika und Jennie <3) und sogar eine heiße Diskussion über den ökologischen Fußabdruck mit Anke von Climate-Couching.
Und vor allem haben wir viele neue Menschen erreicht und viele Kleider haben ein neues, liebevolles Zuhause gefunden.
 Es bedeutet uns sehr viel, dass mehr Menschen es sich zur Gewohnheit machen, mehr zu tauschen und weniger zu kaufen. Und es bedeutet auch viel für die Erde: erstens, die tatsächlichen Produktionskosten zu senken (dazu gehören Land- und Wasserverschmutzung, Gesundheits- und Sozialrisiken für die Arbeiter der Modeindustrie) und zweitens, den massiven Zufluss unerwünschter Kleidung auf die Mülldeponien zu reduzieren. Es liegt in unserer Macht, und wie gezeigt, kann es jede Menge Spaß machen :) Wir können den Wandel gemeinsam gestalten, Solidarität und Nachhaltigkeit gehen Hand in Hand! 
Vielen Dank an alle, die teilgenommen haben!
July, Jenny & Hansi, Astrid und Krittika, die den ganzen Abend unterstützten, und unser wundervoller Jason, der super müde war und trotzdem so hilfsbereit wie immer!
Jason begleitet das Klimaschutz-Projekt. Trefft ihn in den Workshops, helft ihm, schöne Fotos zu machen und besucht diese Blog wieder, um zu lesen, was er geschrieben hat.
Da dieses Event so toll war, werden wir es in Zukunft wiederholen, also bleibt dran für Updates auf Facebook! Oder schaut im Trial&Error Kalender auf der Hauptseite unserer Website nach!
Bis bald! Wir bereiten ein sauberes Frühlingsprogramm für euch vor und es wird spannend werden!
Grüne Liebe,
Maayan vom Mach Mal Team.
[ENGLISH]
We have regularly people telling us that the normal opening hours of our swap-shop don't work out for them. So we decided to use the opportunity to swap all evening long: celebrating the exchange and making in more accessible for everyone.
It was a lovely evening! Our Bar team did wonderful job fixing everybody with delicious home made Kombucha & water-kefir based cocktails (Jule and Vlad, you are amazing!), we had a creative table where people made clothes and jewellery out of trash (Thanks Lo for the donation of coffee bags!), a makeup corner, Fashion Photographer Tau Pibernat, yummy cakes (Thanks Krittika and Jennie <3) and even a heated discussion about ecological footprint with Anke from Climate-Couching.
And most importantly we reached many new people, and loads of clothes found a new loving home.
It means a lot to us that more people make it a habit to swap more and buy less. And it means a lot for the earth, too: first to reduce the real production costs (that include land and water pollution, health and social risks to the workers of the fashion industry) and secondly to slow down the massive flow of unwanted clothes going to landfill. It's in our power, and as shown it can be tons of fun :) We can make the change together, solidarity and sustainability go hand in hand!
Thank you everyone that took part in the making!
July, Jenny & Hansi, Astrid and Krittika that supported the whole evening, and our gorgeous Jason that was super tired and still was as helpful as always!
Jason is accompanying the Klimaschutz project. Come meet him in the workshops, help him take nice pictures and visit again here to read what he wrote.
As this event was so nice we will repeat it in the future, so stay tuned for updates on facebook, or check the Trial&Error calendar on the main page in our website.
See you soon! We are preparing a clean spring program for you and it's going to be exciting!
Green love,
Maayan from the Mach Mal team.