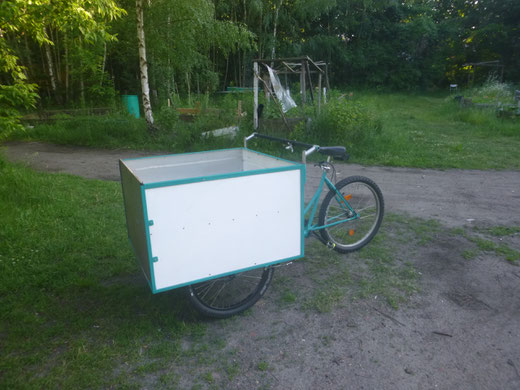 After 4 month of construction at the Berliner Lastenrad-Netzwerk in Treptow, here it is !!
Every monday and wednesday, from february to may, we cut thousand pieces of metal, welded them, fixed bike parts, making walls and floor and finally assembled everything together to get a beautiful, turquoise and spacious cargobike to carry our stuff, collect trash and spread the word all around Berlin !!
This cargobike is made out of 2 original bike frames which were cut and welded together.
Then all the metal part of the box and the support of brakes and direction system were designed and realized by us.
All the welding part is thanks to Benner from the workshop.
The 2 front wheels were assembled by Richard from the workshop. 
Back wheel and all other bike parts were collected, cleaned, fixed and adapted for this bike. The floor and the door of the box are made out of wood, the walls are aluminum advertisement panels.
Then came the coloring part with spray and finally the montage which deserved this part of surprises but the cargobike is alive and riding perfectly !!
Thanks to everybody from the Lastenrad werkstatt and especially Benner, Richard, Simon and Christophe for your help, your patience and for sharing your knowledge with us !   Berliner Lastenrad-Netzwerk - Karpfenteichstraße 13 in Treptow