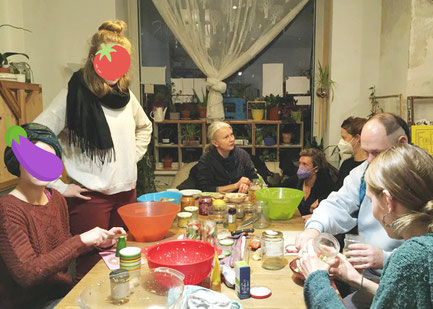 Seit September veranstaltet Trial&Error jeden ersten Freitag im Monat eine Schnippedisko. Das hat bisher sehr viel Spaß gemacht! Im September haben wir eine große Suppe und ein Abendessen aus gerettetem Gemüse gekocht, im Oktober gab es eine Kuchenparty und im November drehte sich alles um die Haltbarkeit von Produkten: Trocknen, Fermentieren und Einmachen.
Außerdem lernten wir, wie man aus Obstresten Essig herstellt, und als ob das noch nicht genug wäre, zeigten uns Sara und Miren, wie man aus Bioabfall einen lebendigen Bokashi-Kompost herstellt.

All diese guten Dinge konnten wir tun, weil wir jetzt von dem Projekt Lebensmittelpunkte unterstützt werden. Jeder Bezirk in Berlin hat seinen eigenen Lebensmittelpunkt und wir sind froh und stolz darauf, derjenige für Neukölln zu sein.

Das Ziel des Projekts ist der Aufbau eines Netzwerks von Lebensmittelpunkten in der ganzen Stadt, wo Nachbarn zusammenkommen können, um gemeinsam zu kochen, zu essen und gesunde Lebensmittel zu verteilen. Hier könnt ihr mehr über die Partnerschaft erfahren. 
And now in ENGLISH->
Since September Trial&Error hosts a "Schnippedisko" event every first Friday of the month. It's been a lot of fun so far! In September we made a big soup and dinner from saved veggies, October had a cake-making party and November was all about making produce last longer: dehydrating, fermenting and canning.
We also learned how to use fruit scarps to make vinegar, and if that'ts not enough Sara and Miren tought us how to use organic waste to make it into a lovely Bokashi compost.

All this good things we were able to do because we are now supported by the project Lebensmittelpunkte. Each quater in Berlin has its own food-hub, and we are so lucky and proud to be the one for Neukölln!

The project aims to build a network of food-hubs throughout the city, where neighbors can come together to cook, eat and distribute healthy food. Read more about the collaboration here.