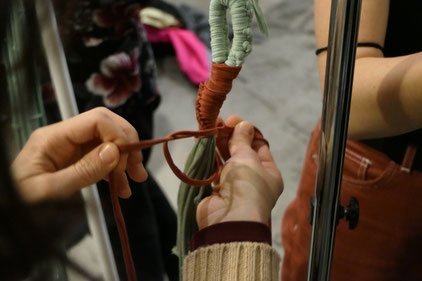 Welcome to everybody to this Klimaschutz project blog post.
On 04.03.2019 took place in the workshop series "textile" of our climate protection project the upcycling workshop "Makramee Pflanzenhänger" (Macrame Plants hanger).
In our swapshop and also in our houses, we use to have a lot of old t-shirts and we want to give them a new life. So we are always looking for how to give them a second live.
On this day, we were doing a Plants Hanger with Macrame technique. That is one of our favourite way to upcycle our materials. We mix an old craft as Macramé with a modern idea re-using our old t-shirts.
Around 10 people join us and these are some of the pictures that we took of the process.
How you can do it? In our KARMA CARPET's blog post,  you will find how to make t-shirt yarn and then, feel free to looking for Macramé tutorials everywhere on internet. You will find amazing ones!!