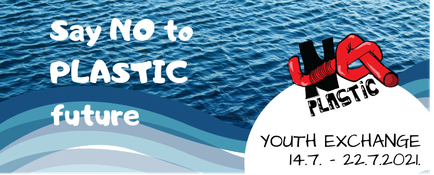 WHEN: July 14th-22nd 2021
 WHERE: Šibenik, Chroatia

  WHO: 5 young people (18-25 yo) + 1 group leader (no age limit) who
***want to make a change and do something in this world,
***want to be an inspiring example and engage others from their community,
***are interested and motivated in environmental issues with a passion for its protection,
***are based in Berlin, Germany.
WHAT: an international youth exchange July 14th-22nd, youth exchange called SAY NO |TO PLASTIC FUTURE, where 42 young people from six different European countries, Portugal, Spain, Serbia, Germany, Hungary and Latvia will meet to forge plastic-free future plans.

HOW: Interested? Apply to trialerror.erasmus@gmail.com till 15.06.2021 with topic "say no to plastic future"!
MORE:
The idea behind this project came from the desire and need of our association to contribute to solving this burning global problem – plastic pollution. Unless we change our thinking and our habits at this point, nature as we know it may no longer exist. By destroying nature, we not only destroy the beautiful environment and the various animal species, but we also destroy our future and compromise the future of our children and the future of all living things. If solidarity is about helping someone in need, then now is the right time to help our planet and future generations. Every day, we are bombarded with pictures, facts, and tips on social networks about how to reduce plastic waste, which is good of course, but we think that all this information is just another post on Facebook or Instagram that we see and move on. In this exchange, we want to raise awareness among young people, educate and encourage them to work to change their collective consciousness, collaborate and design new projects, and become examples in their local communities to follow.

More information about the project: HERE The Info Pack: HERE This project is organised by our dear Chroatian partners ARGONAUTA and funded by EU program ERASMUS+.