We are pleased to present you another sustainable tutorial from our cooperation with ''SpoonFlower'' from Berlin! Whether upcyling or permaculture, handicrafts or repairs, barter economy or urban horticulture; Trial&Error has professional experience with workshops, educational activities in schools, youth centers, artist centers and other institutions.
This time Jule and Masha show you how you can easily make your own fabric yarn from fabric remnants and old T-shirts. You can then continue to use the yarn to knit with it, for example, for macramé projects, or to conjure up our DIY reusable kitchen sponge from the last Trial & Error Tutorial!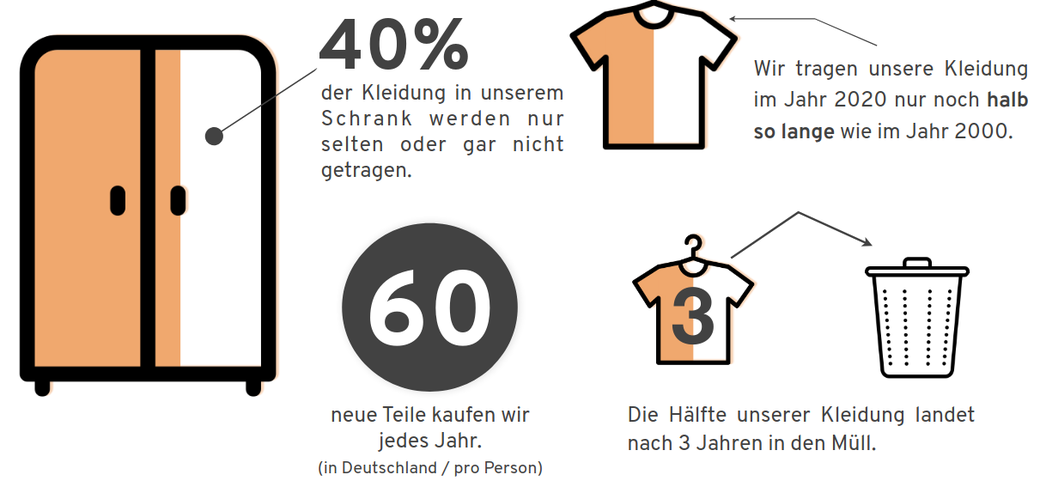 .....40% of our clothes are lying around unused in the closet!

....Textile waste has long since become
a global problem ....Although most garments could still be worn, 80 percent of Texilies in the EU end up either in the waste incineration plant or in landfills. Of the remaining garments, only ten to twelve percent are resold locally. The remaining 8% is exported to developing countries, where the foreign commodity can destroy domestic markets.

....Only 1% of old textiles are recycled into new garments.
We can easily repair and change our broken, too large or too small favorite parts and also for the never worn parts many uses can be found.
7 tips for more sustainable textile consumption:
1. Buy less.
2. Buy used. Or attend clothes swap parties.
3. Quality over quantity.
4. Cotton instead of polyester.
5. Fair fashion instead of fast fashion.
6. Wash less.
7. Repair instead of throwing away.
... or transform your old textiles and fabric remnants into something new, e.B. in textile yarn: we show you how!
How to make your own DIY textile yarn from fabric remnants
Do you have an old T-shirt at home that you no longer wear, but also don't want to throw away? Or maybe fabric remnants left over from a sewing project? Then you can turn them into yarn and create many creative projects with them.
                          List of materials for the production of textile yarn: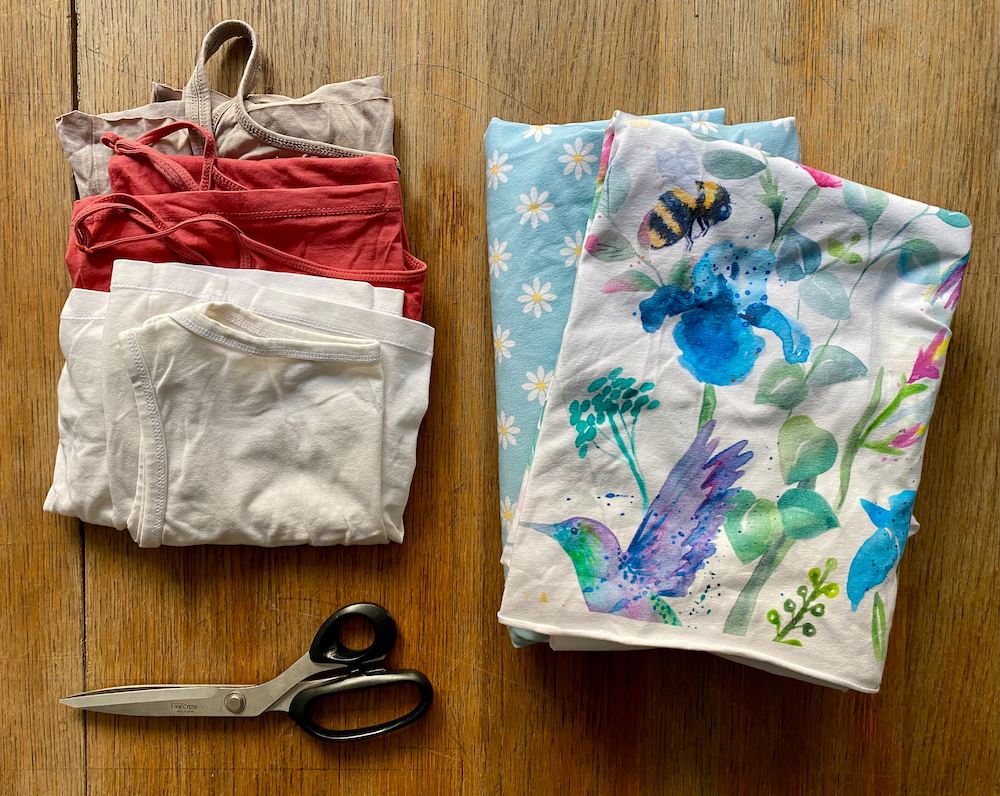 Fabric scissors
Jersey fabric remnants & T-shirts (preferably not ribbed)
                                          Pro tip: Particularly well suited for textile yarn jersey fabrics, as they are very elastic and therefore curl up super.
---
Textile yarn from fabric residues
1. Spread your jersey fabric smoothly in front of you. A cotton jersey was used here. Cotton jersey fabrics, which can be stretched in 4 directions, are particularly suitable for textile yarn, as they roll up super by themselves.
2. Now start cutting with a distance of about 2cm from one corner of the fabric to the next corner, and from there with a little distance to the edge you continue to the next corner. Always until you have arrived in the middle of the fabric. In order for your yarn to have enough stability, it is important to maintain the approximate thickness of the strip of 2 cm.
3. Now you can start stretching the fabric and winding it up into a roll of yarn. Whenever you come across protruding corners created by the spiral cut during the roll-up, you can still clean them and cut them round. Voila And your textile yarn is ready!
                                             Textile yarn made of old T-shirts or a jersey loop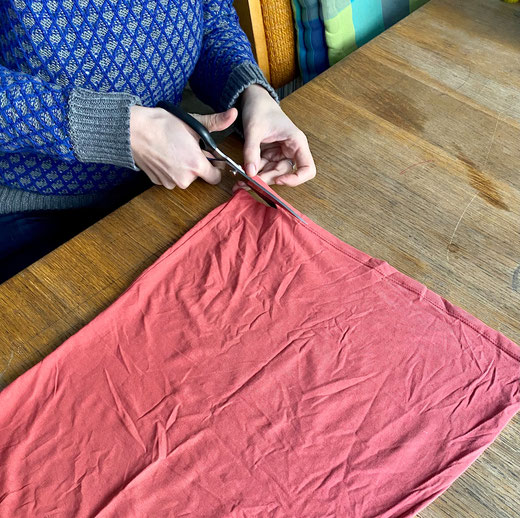 1. Place your T-shirt on a smooth surface, cut off the hem and sleeves of the T-shirt. If you like, you can also sew a rectangular piece of jersey fabric on one side with the overlock. (We recommend not using a ribbed T-shirt.)
2. Now cut the T-shirt into about 2 cm wide stripes, leaving the edge about 3 cm wide on the left.
3. Open the shirt. First cut away the first strip (very important) and then cut diagonally from the second to the first strip, then from the third to the second ... to the end of the shirt.
4.Now you have a single, long, continuous string, stretch the string, this will make it longer and get an even structure. Now wrap the string into a ball.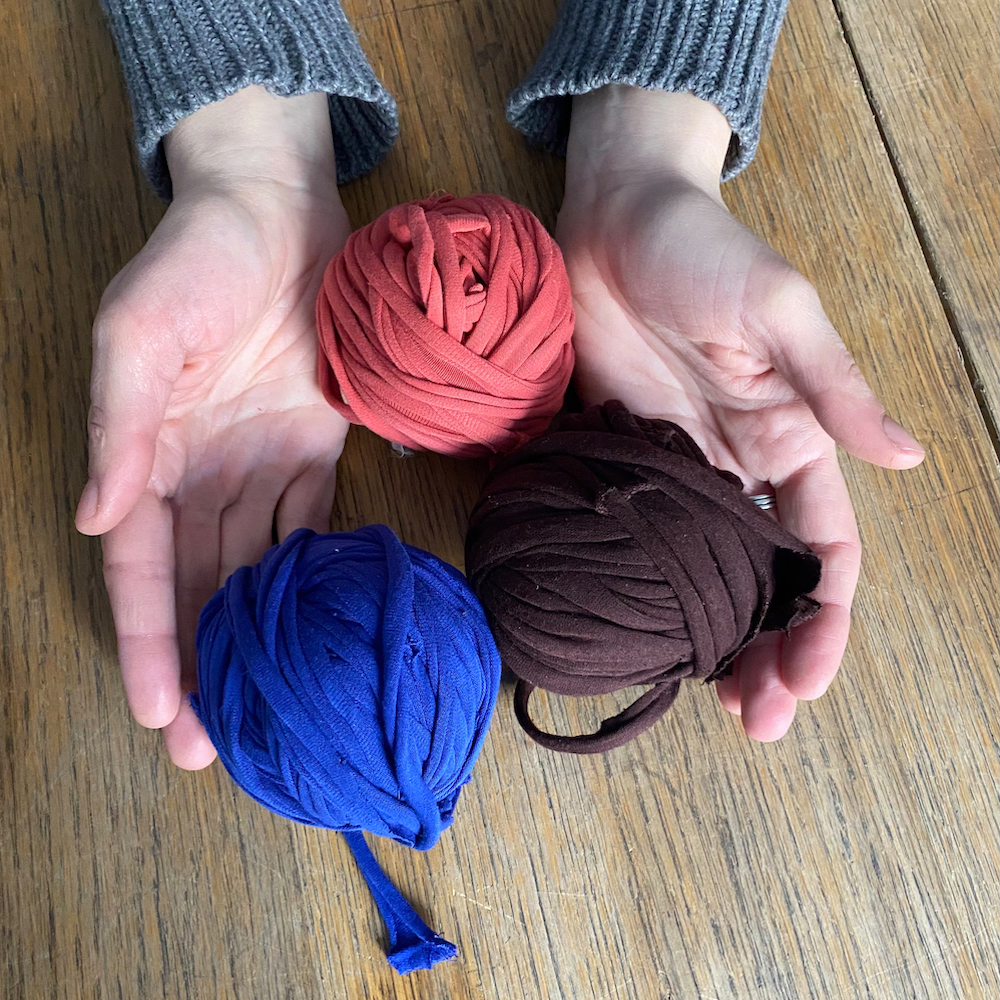 ---
About the guest authors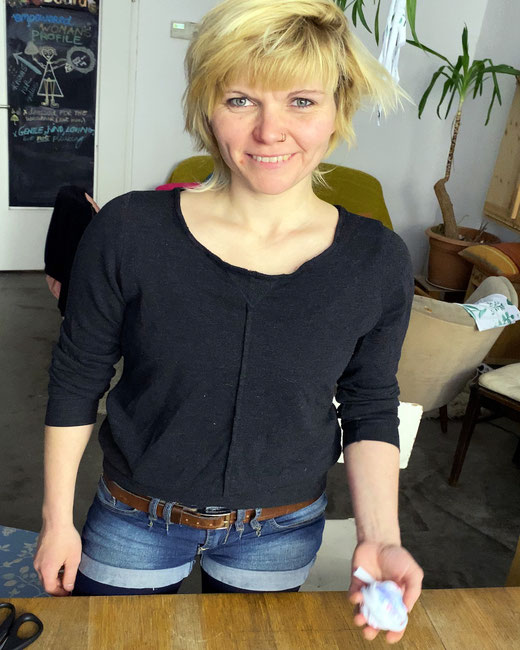 Jule has been part of the collective Kulturlabor Trial&Error for 6 years She particularly enjoys dealing with the topics of circular economy, sharing and swapping culture. She also gives workshops in the field of textile upcycling, creative environmental education with children and young people and zero waste in the household. She firmly believes in the theories of grassroots revolution and in the idea that each individual can make an important contribution to systemic change through his or her consumption decisions. Hence her favourite motto: "Be creative, get out of consumption roles and be the change."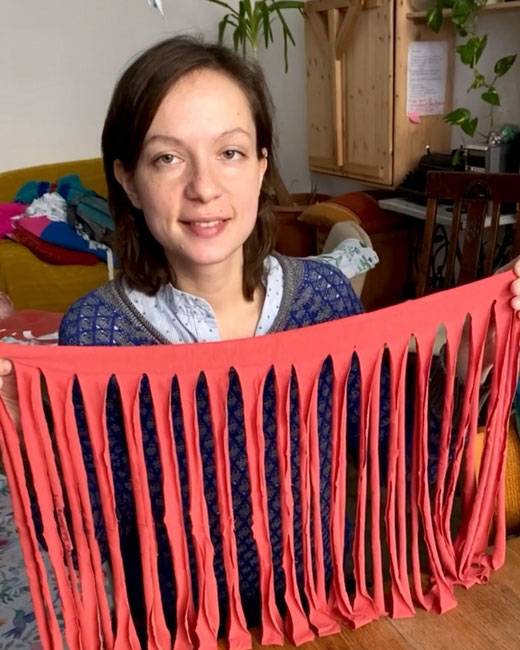 Masha is active in the practical teaching of climate-friendly everyday practices. For several years she has been giving trial & error workshops on the topics of natural cosmetics and soap production, upcycling in general, plastic avoidance, climate-friendly nutrition.