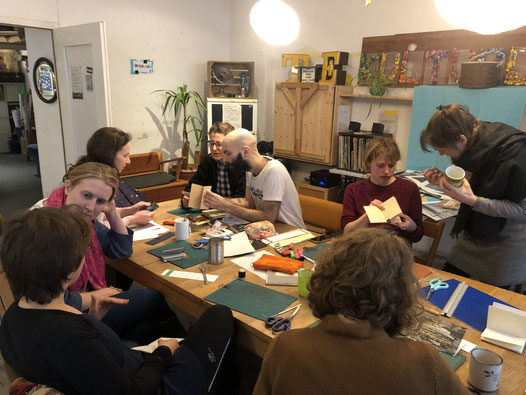 //English bellow//
Die Idee, eine Skill-Sharing-Veranstaltung durchzuführen, klopfte schon seit einiger Zeit an unsere Tür.

Skill-Sharing verkörpert tatsächlich viele Aspekte der Ideologie unseres Vereins: der Austausch von Wissen, Fähigkeiten und Ideen; Menschen dazu zu ermutigen, Dinge selbst zu gestalten und Dinge gemeinsam zu gestalten sowie Open Source. Es ist eine großartige Idee, die man in einer Gemeinschaft, mit Freunden, Kollegen oder in diesen Tagen der sozialen Distanz sogar im familiären Rahmen oder online machen kann.
Skill-Sharing hat so viele positive Aspekte:
In vielen Fällen führt es dazu, dass man sich Fragen über die fabrikmäßig hergestellten Produkte stellt: wer sie hergestellt hat, unter welchen Bedingungen, wie lange sie halten sollen, woher sie kommen, welche Chemikalien sie enthalten, wie ihr Produktionsprozess aussieht, wie viele Ressourcen für ihre Herstellung und Lieferung an uns benötigt werden und was verbleibt, nachdem wir sie verbraucht haben. All dies und mehr sind keine Fragen, auf die wir normalerweise beim Einkaufen eingehen, aber sie stellen sich natürlich, wenn wir anfangen, Dinge selbst herzustellen.
Damit haben wir mehr Respekt vor der Zeit, der Energie und dem Wissen, die für die Herstellung der uns umgebenden Gegenstände erforderlich sind.
Und es gibt uns die Möglichkeit, uns tiefer zu verbinden - mit Materialien, Techniken und anderen Menschen, die mit uns lernen und vielleicht andere Bedürfnisse haben als wir.
Es ermächtigt Menschen, neue Hobbys auszuprobieren und ihre Kenntnisse zu vermitteln. Jeder hat etwas zu lehren. Jeder hat etwas zu lernen.
Wissen zugänglich, freundlich und einfach umzusetzen.
Es legitimiert, sich einen Moment aus dem Alltagsstress herauszunehmen, spielerisch zu sein, etwas Neues zu lernen, die kreativen Säfte fließen zu lassen.
Und vor allem verbindet es uns mit einem Bewusstsein, ein besseres, gesünderes und sinnvolleres gemeinsames Leben zu schaffen.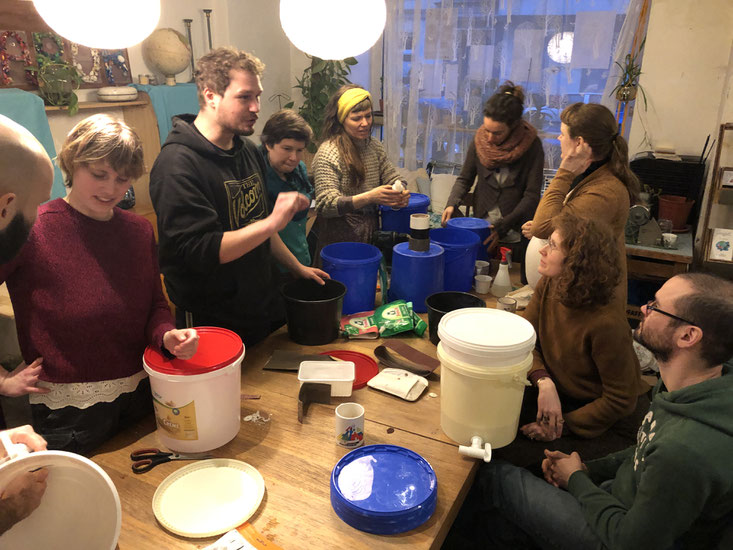 Die Veranstaltung umfassten schließlich acht Sitzungen, die in drei Zeitblöcken stattfanden. Es war manchmal schwer zu wählen, an welcher von ihnen man teilnehmen wollte!
Wir lehrten und lernten, wie man: vegan, zucker- und glutenfreie Kuchen backt (und genossen das fantastische Ergebnis gemeinsam), Hefte aus Restpapieren bindet,  Stilleben zeichnet, eigenes Waschpulver für die Wäsche herstellt sowie Gesichtscreme und Essig, Kleidung repariert und einen Fermentationskomposter baut.
Die Veranstaltung war ein Erfolg und seitdem fragen Menschen, wann das nächste Treffen stattfinden wird!  Der gemeinsame Austausch von Erfahrungen bringt einfach ein natürliches Hochgefühl. 
Wir möchten den wunderbaren Menschen, die ihr Wissen und ihre Leidenschaft mit uns geteilt haben, sehr herzlich danken: Zahra, Alex, Karina, Sarah, Juli, Johanna, Maayan, Max und Daniel.
Und all den Menschen, die an diesem angenehmen und bildenden Nachmittag mitgemacht haben. Ihr seid großartig!

Wir freuen uns schon auf die nächste Gelegenheit, wenn die Corona-Krise vorbei ist.
The idea to have a Skill-Sharing event was knocking on our door since a while now.

Skill-Sharing actually embodies lots of aspects of our organisations ideology: sharing knowledge, skills and ideas encouraging people to do things themselves, and to do things together as well as open source. It's a great idea to do in a community, with friends, colleagues or – in such days of social distancing – even in the family frame or online.

Skill-sharing has so many positive aspects:
In many cases It leads to questioning factory-made-products: who made them, under which conditions, how long are they meant to last, where did they come from, which chemicals do they contain, what is their production process, how many resources are need to make them and deliver them to us and what will remain after we used them up. All these and more are not questions we are normally used to ask when we go shopping, but they naturally come up when we start making things ourselves.
It leads us to have more respect to the time, energy and knowledge that are involved in making the objects that surround us.
And gives us a chance to connect deeper with materials, techniques, and other people that are learning with us and might have different needs than us.
It empowers people to try new hobbies and share there knowledge. Everyone has something to teach. everyone has something to learn.
Making knowledge accessible, friendly and easy to apply.
It legitimates taking a moment out of the all-day stress to be playful, learn something new, let the creative juices flow.
And above all, it connects us to a state of mind of creating a better, healthier and more meaningful life together.

The event included eventually eight sessions, happening in three time-slots. It was sometimes hard to choose, in which of them to take part.
We taught and learned how to: bake vegan, sugar&gluten-free cakes (and later enjoyed the amazing result together), bind booklets from leftover papers, draw still-life, make our own washing powder for the laundry as well as face-cream and vinegar, repair our clothes and build a fermentation composter.

The event was a success and people are asking ever since when will the next meeting be! The sharing experience just brings a natural high. 

We would very much like to thank the wonderful people that shared with us their knowledge and passion: Zahra, Alex, Karina, Sarah, July, Johanna, Maayan, Max and Daniele.
And all the people that participated in the making of this pleasant and educating afternoon. You are great!

We are looking forward to make the next event already, after the Corona crises will have passed.