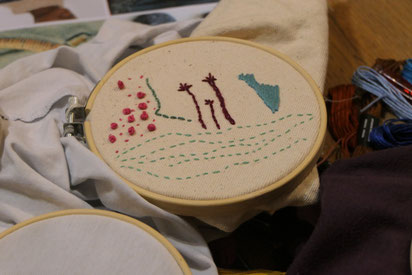 [Deautsche Version unten]
One of the reasons for the textile through-away culture is that we don't value our clothes and textiles as much as in previous times. And why should we? When our garments didn't cost us much money or effort and they are not unique or especially meaningful for us – but just another piece in a million that looks exactly the same. On top of this- as soon as our clothes get a stain or a whole, they're considered no longer suitable for most occasions.
Embroidery offers a good answer to all of these issues: we put care and time into a piece of clothing and make it one of a kind. Our own. We might use the technique to cover a hole or a stain. And we will never look at that garment as worthless again. It's a beautiful way to make a statement that we see the value of our clothes.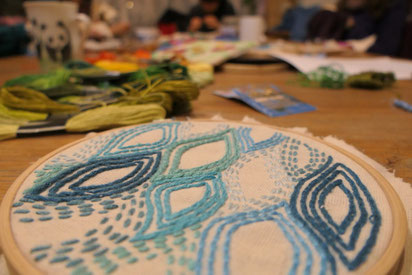 We came together on a cold winter evening, with the teacher Thalia Botsari to learn and practice this ancient craft that keeps people busy throughout long winters since hundreds of years. We learned different stitches, created each a design and reaches nice results.
It was a lovely session! Which brought lots of peace through the meditative power of embroidery.
[Deutsch]
Stickerei – Mach deine Kleidung wieder großartig!
Einer der Gründe für die textile Wegwerf-Kultur ist, dass wir unsere Kleidung und Textilien nicht mehr so sehr schätzen wie in früheren Zeiten. Und warum sollten wir? Wenn unsere Kleidungsstücke uns nicht viel Geld oder Aufwand gekostet haben und für uns nicht besonders bedeutsam sind – sondern nur noch ein weiteres Stück von einer Million, das genau gleich aussieht wie die anderen. Hinzu kommt, dass Kleidung, sobald sie einen Fleck oder ein Loch bekommt, für die meisten Gelegenheiten als nicht mehr geeignet gilt.
Die Stickerei bietet eine gute Antwort auf all diese Punkte: Wir investieren Zeit sowie Mühe in ein Kleidungsstück und machen es einzigartig, unsere ganz eigenen. Wir könnten diese Technik nutzen, um ein Loch oder einen Fleck zu bedecken. So werden wir dieses Kleidungsstück nie wieder als wertlos betrachten. Es ist eine schöne Art, zu zeigen, dass wir den Wert unserer Kleidung schätzen.
An einem kalten Winterabend trafen wir uns mit der Lehrerin Thalia Botsari, um dieses alte Handwerk zu erlernen und zu praktizieren, das Menschen seit Jahrhunderten über lange Winter beschäftigt. Wir haben verschiedene Stiche gelernt, haben jeweils eigene Designs erstellt und schöne Ergebnisse erreicht.
Es war eine schöne Zeit, und brachte viel Ruhe durch die meditative Wirkung der Stickerei.